Dairy Free doesn't have to mean missing out on tasty dinners. All these dinner recipes are not only dairy free or can be made so with easy substitutions, but they are all kid-friendly too!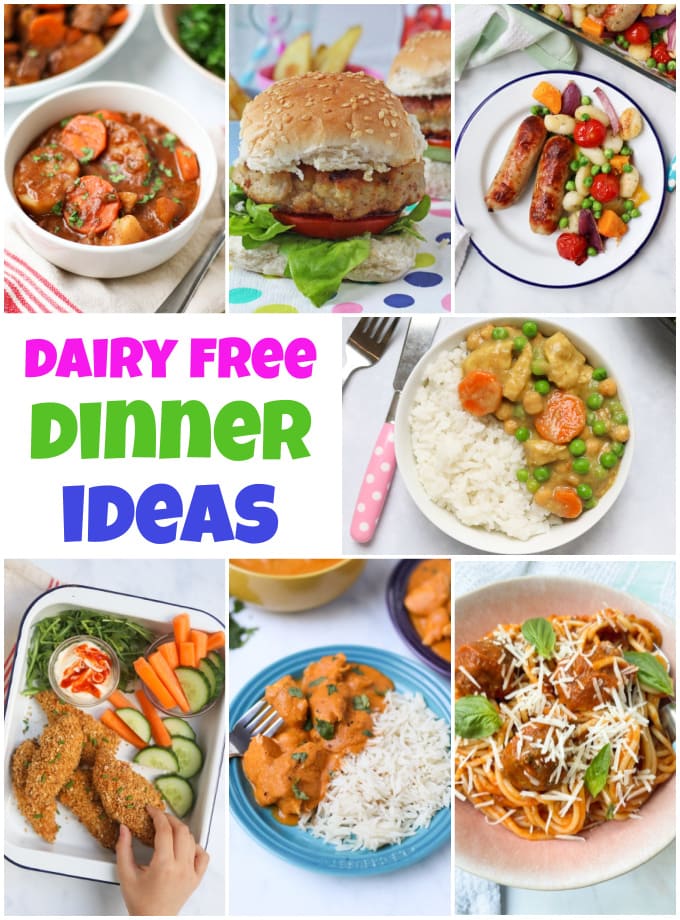 Whether you are dealing with a full dairy allergy within the family, looking to reduce the amount of dairy you are consuming or just want some tasty, kid-friendly family dinner ideas then this recipe roundup is for you.
If you are dealing with a dairy allergy, then that doesn't mean you can only eat certain foods or recipes. All our recipes in the Dairy Free section of the blog are either dairy free or can easily be adapted with simple substitutions to make them allergy friendly.
Dairy Free Substitutions
These days, most supermarkets cater really well for dairy intolerances with dairy free alternatives being readily available.
But we thought it might be also helpful to list out some easy ingredient swaps when cooking:
Milk – Cow's milk can be swapped out for plant based milks such as soy milk, coconut milk, almond milk or rice milk.
Butter – Depending on the recipe being sweet or savoury, butter can often be swapped out for coconut oil or coconut butter, olive oil, or avocado oil. More particularly for baking recipes, butter might be swapped out for apple sauce, nut butters or diary free yoghurt.
Yogurt – There are plenty of dairy free yogurts available in supermarkets now such as coconut yogurt, soya yogurts and oat yogurts.
Cheese – Again similarly to yogurt, most supermarkets now stock a wide range of dairy free cheeses ranging from hard cheeses, to spreadable and soft cheeses.
Dairy Free Dinner Recipes
Dairy Free doesn't have to mean missing out on tasty dinners! All these dinner recipes are not only dairy free or can be made so with easy substitutions, but they are all kid-friendly too!
A delicious mild chicken curry recipe suitable for kids and packed with hidden vegetables likes carrots, courgette, cauliflower and red pepper.
A delicious hearty stew with beef, carrots and potatoes in a rich sauce. All cooked in the slow cooker. Comfort food made easy this Winter!
Make mid-week meals as stress free as possible with my One Pan Gnocchi & Sausage Traybake. Quick, easy and so delicious too!
Make this Wagamama favourite at home. Chicken Katsu Curry, super mild and suitable for kids!
A quick and easy cook-from-scratch Chicken, Coconut & Tomato Curry recipe. Super mild and suitable for kids!
A tasty Cheat's Paella ready in just 10 minutes using a few cooking hacks! Perfect for when you need to feed the family fast!
A delicious and warming ragu recipe made with diced lamb leg and slow cooked for a rich and intense flavour. Perfect for feeding a crowd this Winter!
A delicious kid-friendly mild Chinese Chicken Curry recipe. The perfect go-to family dinner and great for batch-cooking and storing in the freezer.
Sausage and Mash has to be the ultimate comfort food. Take this classic dish to the next level with my Onion Gravy recipe. So tasty, like a hug in a bowl!
A delicious recipe for creamy chicken curry and rice, all cooked together in one pot and in less than 30 minutes. Mid week meals made easy!
Delicious baked chicken meatballs flavoured with sweet chilli, soy sauce and lime juice and served with noodles and vegetables.
If you try any of these Dairy Free Dinner Recipes, please do leave me a comment below. You can also share your pictures with me on Instagram. I always love to see your creations!
Other Recipe Collections You Might Enjoy:
15 Of The Best 15 Minute (or less!) Kids Dinners – 15 Minute Meals for Kids – quick and easy dinner time solutions for busy days!
The Best One Pot Family Recipes – 15 Easy & Delicious One Pot Family Meals; so quick to whip up on busy evenings with minimal washing up too!